How Red Klotz, 14,000-Time Loser, Beat The Harlem Globetrotters
By Dave McKenna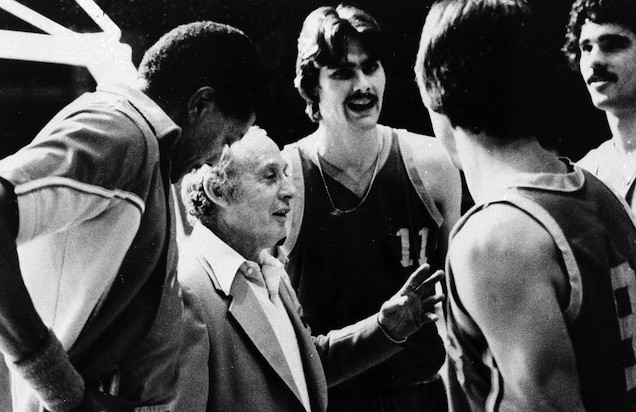 Red Klotz went out on a 43-year losing streak. The founder, owner, and longtime coach of the Washington Generals died over the weekend in Margate, N.J. He was 93.
All the losses came to the Harlem Globetrotters. A very, very loose estimate of his career record would put it at something like 6-14,000.
Klotz had his share of winning during his early days as a Philadelphia baller. From the New York Times's obit:
He led South Philadelphia High School to city championships in 1939 and '40, played two seasons for Villanova and later played for the American Basketball League's Philadelphia Sphas (the name was an acronym for the South Philadelphia Hebrew Association, a social organization that provided the team's uniforms for a time) and for the champion [Baltimore] Bullets of 1947-48.
His Sphas had legitimately beaten the Globetrotters a time or two before 1952, when Globetrotters boss Abe Saperstein approached Klotz about forming a full-time opponent for his team. Thus, the Washington Generals were born. Klotz had no connection to D.C. I asked him about the name in 2007. Klotz said he'd picked "Washington" because the nation's capital was without a pro squad at the time, having lost the Capitols of the American Professional Basketball Association when they folded in January 1952. (That was a season after Klotz's friend Red Auerbach quit as Caps coach and began his mythmaking career with the Boston Celtics.)
As for "Generals"? "People loved Eisenhower, and he was new then," Klotz said.
Thus began a life of seeing the world and watching his Generals—or depending on the night, the "Boston Shamrocks," "New Jersey Reds," "Baltimore Rockets," or "Atlantic City Seagulls"—lose to the Globetrotters again and again and again.
Klotz, until the end, insisted that he always sent his teams out to win. "I coach just like Larry Brown does," he once told me.
"Before every game," he added, "we discussed cutting down turnovers, picking your man, everything any coach would discuss with his team." He pointed out that in the early days, the Generals had to face the Globetrotters squads with guys like "Wilt Chamberlain, Connie Hawkins, [and] Sweetwater Clifton playing for them before they went to the NBA."
But amid the decades of defeat, there were a few scattered victories—six in all, according to the Washington Generals Fan Blog. The most memorable of those happened on Jan. 25, 1971, in Martin, Tenn.
Much is in dispute about the particulars: The Times's obit says Klotz, who was 50 years old but still giving himself lots of playing time, took "a two-handed set shot from 20 feet with seconds to go." In 2007, Klotz told me he'd let fly with a half-court shot at the buzzer. But from wherever it was taken and with however much time was left on the clock, everybody agrees Klotz's shot went in and gave his band of losers a 100-99 victory over the Globetrotters.
"You'd have thought we'd killed Santa," Klotz told me. As fans booed, Klotz said, he and his squad ran into the locker room and "poured orange soda over each other's heads." He never had a soda shower again.
RIP, Red. Pour out a little Fanta for the man today.