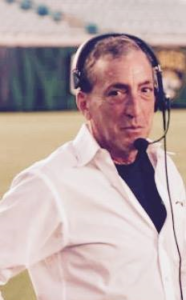 In the fall of 1973, legendary KYW Newsradio News Director Nelson Cohen offered 17-year-old Larry Rosen a position as an editor's assistant for $1.80. That kick-started an uninterrupted 50-year career which has included meeting six Presidents and a Pope, being part of multiple Super Bowls and World Series, more than twenty EMMY awards and a lifetime of joy in the journey.
The initial chapter at KYW was a whirlwind, from the visit of Pope John Paul II to national award winning coverage of the MOVE shootout, Three Mile Island and many others. Larry soon became the youngest morning drive editor in the history of KYW, which emerged as Philadelphia's highest rated station, with unprecedented ratings.
As regional cable began to claim a foothold, Larry moved to PRISM in the summer of 1983, covering his first World Series that fall. In a 15 year relationship, Larry served as an Executive and Broadcaster for Philadelphia Phillies baseball. He also served as the voice of Big 5 basketball and had similar roles with Temple University, the Atlantic 10, the Philadelphia Kixx, Philadelphia Wings and many others. His first EMMY came in 1985 along with producer Jon Slobotkin, for their profile of Walt Hazzard, Pooh Richardson and the Philly-UCLA connection!
In March of 2000, Larry began what would become a one of a kind NFL career that would span nearly three decades. He began as Vice President of the Baltimore Ravens where he served as Executive Producer and Line Producer for all Game Presentation events in stadium as well as host and producer of multiple EMMY award winning weekly television programs. He won his first Super Bowl ring in 2001, with the second coming in 2013.
At the forefront of new and ever more dynamic technology, Larry accepted a position in 2015 with the Jacksonville Jaguars, building and producing all elements for the world's largest and first ever 8k video board. The Jaguars made a run to the AFC title game two years later. Larry then moved to the Atlanta Falcons in a similar role as the team built the first Halo Boards atop the seating bowl at Mercedes Benz stadium.
Larry has been part of the NFL's presentation of the Super Bowl for many seasons and in 2021, he began his tenure as NFL National Game Rep, representing the NFL as a national game each week.
Larry is most gratified by the "tree" of colleagues, students, mentees and talented professionals who populate control rooms and broadcast trucks around the nation! That, and of course the support and love of his family, from his mom Shirley, to wife Yael and children Sunny, Inde and Yshai who have made it all possible.