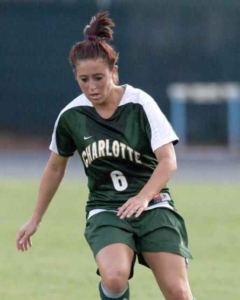 Whitney Weinraub-Tucci's journey in the world of soccer is a testament to dedication, skill, and an unwavering passion for the sport. From her formative years at Council Rock South High to her illustrious collegiate career at Charlotte, her impact has been nothing short of exceptional.
Whitney's soccer journey began as a member of the ODP Regional Pool and a five-time inclusion in the Eastern Pennsylvania ODP State team. Her dedication and proficiency on the field led to well-deserved recognitions, including being named NSCAA All-Region and All-State, while media outlets took notice of her exceptional talents. Representing the Pennsylvania Strikers club team, she honed her skills and set the stage for her future accomplishments.
Her legacy took flight during her time at the University of North Carolina Charlotte, where she left a lasting mark on the soccer program. Her freshman year in 2007 marked the beginning of her remarkable career. Named to the Jewish Sports Review's All-American team, she made her presence felt with her impressive scoring ability, earning her the distinction of A-10 Rookie of the Week after scoring goals in each of UNC Charlotte's first two games. Her six goals tied her for the team lead and solidified her reputation as a dynamic force on the field. As the season progressed, her contributions remained pivotal, and she finished the year with 14 points, ending as the team's third-highest scorer.
Whitney's impact only grew in subsequent years. In 2008, her prowess on the field earned her the title of A-10 Offensive Player of the Year, an honor she would claim for a second time in 2009, making her one of only two players in A-10 history to achieve this feat. Her consistent excellence earned her a place on the All-Atlantic 10 first team, as well as recognition from the NSCAA All-Mid-Atlantic Region and the Jewish Sports Review's All-American team. During this period, her goal-scoring and playmaking abilities were evident, as she found the back of the net in critical moments and contributed crucial assists.
Whitney's journey was punctuated by record-breaking achievements. Her name became synonymous with success, as she consistently ranked among the top performers in the conference and the school's history. Her 12-goal season in 2008 remains tied for the fourth-highest single-season total in school history, and her career tally of 39 goals stands as a testament to her scoring prowess. With a remarkable 104 career points and 13 game-winning goals, she etched her name into the annals of UNC Charlotte soccer history.
Whitney's contributions were not only recognized on the field but also beyond. Her exceptional accomplishments earned her a place on the Jewish Sports Review's All-American team, an honor that further underscored her impact on the sport. In 2018, her unparalleled contributions to the Charlotte women's soccer program culminated in a remarkable honor – the retirement of her jersey. A true legend of the program, Whitney Weinraub-Tucci's legacy serves as an inspiration to aspiring athletes, a testament to the rewards of relentless dedication, unyielding determination, and a genuine love for the game.