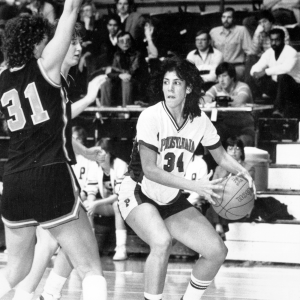 Barbara is a native of Long Island, NY where she attended Herricks High School and played three years of varisty basketball. She was the team captain in her senior season (1979) when Herricks won the big prize – the Nassau County Championship. Herricks High participated in the prestigious Empire State Games, Long Island and New York City Regions.
Albom starred at the University of Pennsylvania for the women's varsity basketball team from 1980 to 1984 earning numerous honors. She was selected Penn's most valuable player in 1984 when she led the team in scoring and was second in rebounding. Penn's captain, she made the Big Five first team and was second team all-Ivy League. She was inducted into the Big Five Hall of Fame in 1992 to highlight her career. Barbara graduated from Penn's Wharton School of Finance in 1984 with a B.S. in Econnomics and also earned a J.D. from the Benjamin N. Cardoza School of Law in 1987. She resides in New York City where she is in private practice.
Albom was very involved with the U.S. Maccabiah women's basketball team in 1981 and 1984. The 1984 team won the Silver Medal. She is very involved in charitable and humane endeavors such as the Susan G. Komen Foundation; Financial Women's Association Race Team; Race for the Cure to fight breast cancer; and she continues to volunteer her services to victims of 911.