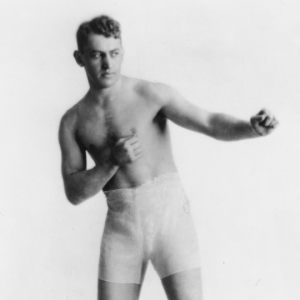 Using his ring name, "Battling Levinsky ", Barney Lebrowitz was the light heavyweight champion of the world from 1916 to 1920. During his professional career he fought heavyweight legends Gene Tunney and Jack Dempsey, losing both matches.
His official professional record boasted 287 bouts with 192 wins (34 by knockout), 52 losses, 34 draws and 9 no decisions. In those days, boxing rules stipulated that a championship fight not ending in a knockout was a "no decision".
Levinsky started his career under the name Barney Williams, but received little attention until 1913 when he acquired "Dumb" Dan Morgan as his manager. Morgan changed his name and his boxing fortunes. Levinsky fought 37 times in 1914 with nine bouts during the month of January.
He began 1915 with three 10 round matches on New Year's Day. After twice losing to light heavyweight champion Jack Dillon, Levinsky wrested the crown from the champion in October 1916. Four years and 59 fights later, he surrendered the crown to France's Georges Carpentier.
Levinsky loved to fight and claimed to have fought in 500 bouts, a figure that is impossible to substantiate. He is a member of The Boxing Hall of Fame and The International Jewish Sports Hall of Fame.