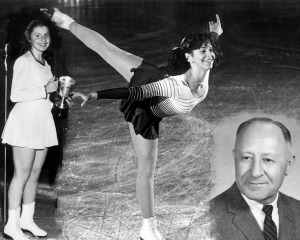 The Beloff Family — David Beloff, Harriet Beloff Goodwin and Bethanne Beloff Goodwin-Nolan — represents three generations of outstanding and talented Philadelphia athletes who have excelled in the fields of boxing, coaching and ice skating.
Dave Beloff was an exceptionally versatile young athlete while growing up the son of Russian immigrants in South Philadelphia. On one day, the 135-pound All-City end played all 48 minutes of a South Philadelphia High School football game, and then won two boxing matches to capture the Philadelphia Amateur Lightweight Boxing Title, a feat that was listed in Ripley's Believe It or Not!
After a brief stint on Temple University's football squad, Beloff was named student boxer-coach of Temple's newly formed boxing team. His team won numerous prestigious championships under his coaching expertise for 15 years. Beloff never lost a bout in his four years of competing at Temple.
He received his B.A. and J.D. from Temple University and Law School, and a Master's from Columbia University. He then began a career holding positions as public high school football coach and head of the physical education at Central, Benjamin Franklin, Simon Gratz and South Philadelphia High Schools until he retired in 1972. He also was one of Philadelphia's top professional boxing referees and judges for many years. The Varsity Club inducted Dave into the Temple University Hall of Fame in 1978. He passed away in 1990 at the age of 87.
Harriet Beloff Goodwin, Dave Beloff's daughter, was a pioneer for Jewish women in the world of figure skating. She is believed to be the first Jewish girl in the United States to pass figure skating's highest honor, the Gold Test.
Because her local skating club was restricted and would not allow Jews to join, the then 11-year-old Harriet Beloff moved with her mother to Lake Placid, NY to pursue her figure skating dreams. Under the tutelage of the legendary coach Gustav Lussi, she became a national senior competitor, earning many awards and medals, including the Philadelphia Senior Women's Title and the Middle Atlantic Senior Ladies Title. She is still involved in figure skating as a Gold Judge.
Bethanne Beloff Goodwin-Nolan, Harriet's daughter and Dave's granddaughter, also chose to pursue the sport of figure skating. She, too, blazed a trail for other Jewish women to follow when she became the first Jewish competitor in the National Collegiate Championships in the Senior Ladies Division.
Bethanne, who began skating at the age of two, also trained under Gustav Lussi in Lake Placid, at the Philadelphia Skating Club and Humane Society, and in Colorado Springs under noted coach Donald Laws. An attorney by profession, Bethanne now is a Silver Judge at figure skating competitions.