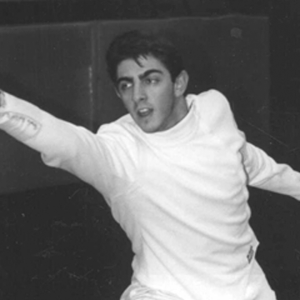 In the world of inter-collegiate and international fencing, being chosen as a member of an Olympic team is the absolute pinnacle of the sport. Cliff Bayer, of the University of Pennsylvania has been so honored twice.
The Wharton MBA and fencing superstar competed for the US in both the 1996 and 2000 Olympics. In addition, Bayer became the youngest national champion in men's foil fencing in United States history. In 1997, the US Fencing Association named him the Male Athlete of the Year after he became the first US male foil to earn a medal in the World Championships.
In 1999, Bayer also became the first American to earn a medal at a World Cup event, taking the bronze in Epinho, Portugal. Three months later, in St. Petersburg, Russia, he became the first American to win a World Cup Title. At that competition, he routed three-time world champion Sergei Goloubitsky of Ukraine before defeating 1995 world champion Dmitry Chevtchenko of Russia in the final. Bayer recalls that the Russian crowd was so shocked by the result that "I looked into the crowd and saw 500 dropped jaws!" Bayer won his second World Cup in Bonn, Germany, where defending Olympic champion Alessandro Puccini of Italy was among his victims.
In 2000, he ranked first in the U.S. and tenth worldwide … a singular achievement in a sport long dominated by Europeans and the apex of a career for a young man who was still a full-time student at Penn.
During that heady period, Bayer whose initial interest in fencing was spurred by his fascination with "Star Wars" was the recipient of myriad media coverage by the television networks and the NY Times. He also was the subject of a photo spread in Vanity Fair magazine shot by famed photographer Annie Leibovitz. The appeal of this attractive young Ivy Leaguer was so vast, that he received a corporate sponsor that covered his sport-related expenses. It made Bayer the only fencer ever to receive sponsorship for his fencing career. In a sport ruled by youth, Cliff Bayer retired at the age of 24 after earning both his BA and MBA in 2003.