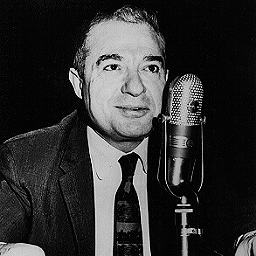 A nice Jewish boy whose parents wanted him to be a lawyer, a doctor or a CPA, Dave "The Zink" Zinkoff was perhaps the most famous voice in the history of professional basketball.
For years he was the voice of the Philadelphia 76ers and, before that, the Philadelphia Warriors, where he coined such colorful phrases as "Dipper Dunk" and "Gola Goal".
He traveled around the world with the Harlem Globetrotters and prior to that worked with Eddie Gottlieb as an announcer for the Philadelphia Sphas. Never an athlete, because he was born with "two left feet", Zink was a sports devotee during his student days at Temple University, usually cheerleading at every game.
A 1932 graduate, he announced at sporting events there, from the first boxing match against Army to Temple Owls basketball games. He announced the first Sugar Bowl game in New Orleans in 1935 where coach Pop Warner's Temple team lost a close game to Tulane.
He also did Phillies games at Connie Mack Stadium. He was a committee member of the Pop Warner Little Scholars. Zink soon became one of the most recognizable voices in sports and, although sought after by other cities, said he would never leave Philadelphia.
In June, 1980, he was let go by the 76ers, but by the following August was back at the microphone doing what he did best. Zink continued to be the public address announcer for the 76ers until his death in 1985.