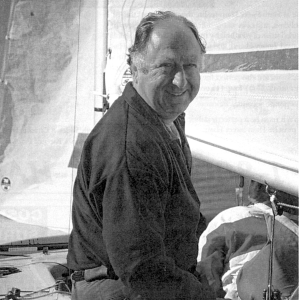 The first Jew to be a member of the United States Olympic Team in Sailing and first one to win an Olympic medal, Don Cohan picked up sailing in 1967 at age 37. Within three years, Cohan was competing in top Soling and Dragon-class regattas from Sweden to Tasmania; within five, he was reveling in a classic Walter Mitty moment as he bowed his head for longtime U.S. and International Olympic Committee president Avery Brundage to drape the bronze medal for the Dragon around his neck at the 1972 Munich Olympics.
A Philadelphia native, Cohan graduated from Amherst College and Harvard Law School. He has raced in many countries including: United States, France, Germany, Australia, Canada, Puerto Rico, Italy, Finland, England, Denmark, Holland and Hungary. He has raced in international regattas in 5.5 meters, Dragon, Star, Soling, Tempest and the Flying Dutchman. Cohan has been in various classes including the Chesapeake Bay Champions, Atlantic Coast (14 times), Pacific Coast (2 times), United States, German, European and Australian Champion.
In Jewish communal affairs, Cohan has been a Trustee of Federation, president of JEVS, and Chairman of the North American Friends of Israel Oceanographic and Limnological Research. He is on the Board of the Philadelphia Orchestra and the Philadelphia Academy of Music.