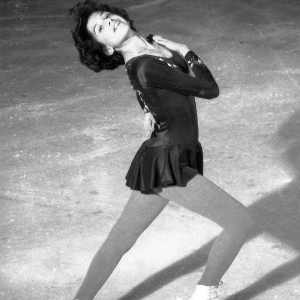 Beginning at the age of six, Ellen Barkann became a competitive figure skater who achieved the highest level in all disciplines of her sport: singles, pairs and ice dancing.
A graduate of Haverford High School and Temple University, she passed her U.S. Figure Skating gold figures test at 13, a far younger age than most skaters and at the age of 16 made the move to national dance competition permanently. Barkann practiced at the Philadelphia Skating Club with such renowned skaters as Scott Hamilton and Todd Eldredge and also Kitty and Peter Carruthers at the Skating Club of Wilmington.
Her interest in the sport of skating received a huge boost when Dorothy Hamill won the Olympic Gold Medal in 1976. Watching her on TV and seeing her photos on magazine covers, she thought "I want to be her one day." "For girls, it's the one sport where they can be feminine", she said. "It's an opportunity for a girl to really excel in a sport." Barkann competed nationally in ice dancing before she stopped skating to complete her college education. While in college, she coached skaters who competed locally, regionally, and sectionally.
After her retirement, Barkann remained an active member of the Philadelphia sports community. She was the Director of Ice Skating at the Havertown Skatium and in 2001, created an event called The Day Philly Remembers, in which 70 athletes from the local professional teams gathered to raise $40,000 for the Red Cross days after the 9/11 attacks on our country. She then re-created the event ten days after hurricane Katrina to aid victims on the Gulf Coast.
In 2005, Barkann started her own company, which represents professional athletes for personal appearances, speaking engagements and television and radio job opportunities in the tri state area. Since its inception, Score Entertainment has become the premier source for athlete appearances in the Delaware Valley.
In October of 2012, Barkann created a nonprofit, The Barkann Family Healing Hearts Foundation, whose mission is to provide grants and financial assistance to families in the area who are overcome by family crisis, long term illness or sudden loss of life.