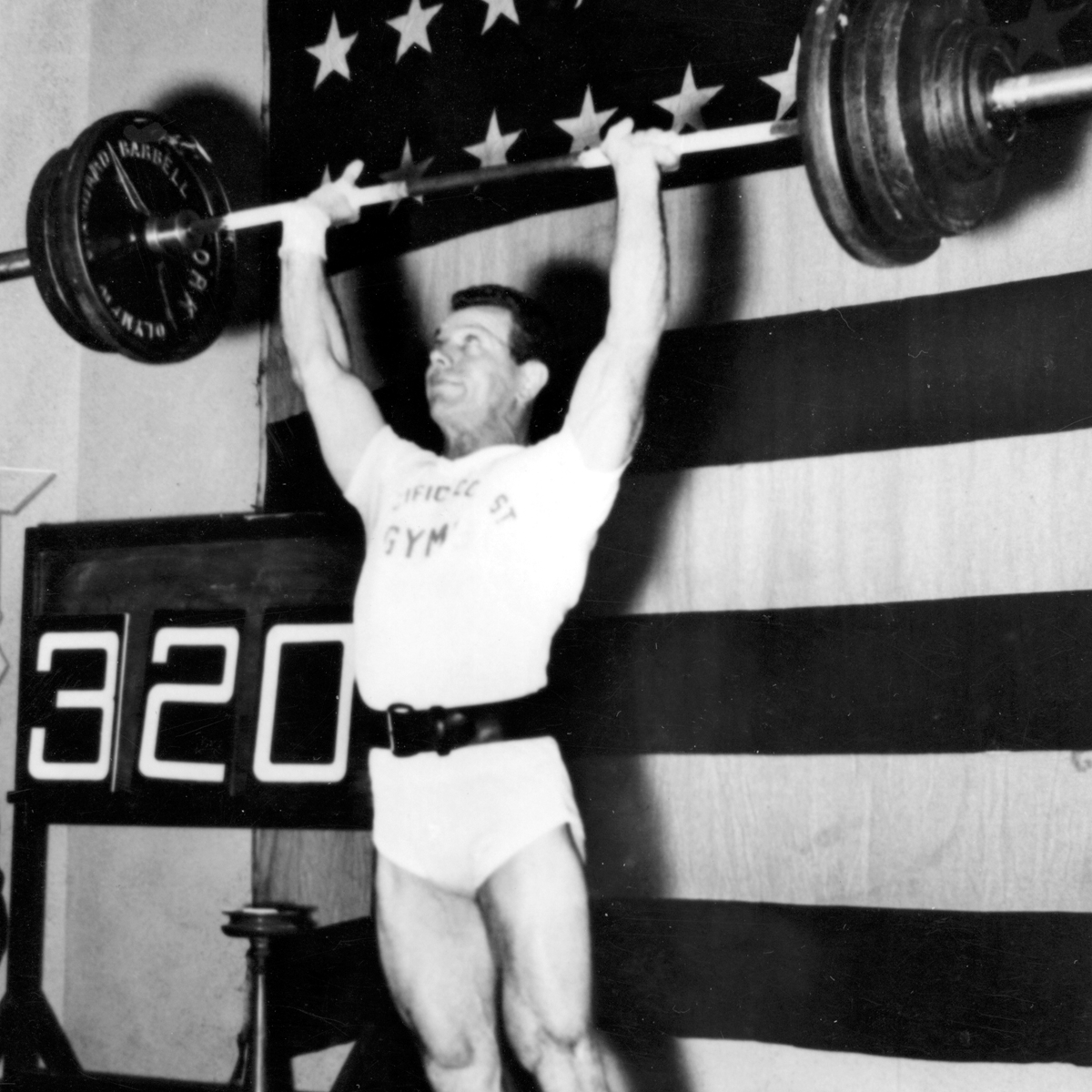 Some athletes know how to perform when it counts. Frank Spellman is one of them. His strength, determination and remarkable composure enabled him to win an Olympic Gold Medal and become a key contributor to the USA Weightlifting Team's first victory at the 1948 Olympic Games in London. Competing in the Middleweight division, Spellman established Olympic records at the Games in the clean-and-jerk (336.25 pounds), and total lift (860 lbs./390 kgs.) Orphaned at the age of 7, Spellman was placed in the Downtown Jewish Orphan's Home in Philadelphia until he reached the age of 17. "I can still remember the address," he says. "It was at 9th and Shunk."
He was active in a number of sports as a youth, especially gymnastics and track. A friend introduced him to the sport of weightlifting at the age of 17, and Spellman found that he could press 130 pounds at a bodyweight of 120 pounds during the first day that he tried lifting weights. He was fortunate to have been taken under the wing of another lifter named Dan Leone whose lifting techniques and basic training methodology influenced Spellman for almost his entire career. Spellman progressed rapidly, gaining strength and body weight. By December 7, 1941, having recently turned 19, he officially lifted 300lbs. at a bodyweight of 156 pounds. It was a Day of Infamy for the United States (Pearl Harbor) but a day of emergence as a national lifter for Spellman.
Despite the uncertainties of the developing way, Spellman continued to train and went on to win the Jr. Nationals in 1942. Drafted later that year, Spellman served in the military for three years during WWII. After he was honorably discharged, he moved to York, PA where he trained with the York Barbell team and worked for the York Barbell Company owned by his friend and mentor, Bob Hoffman. "Bob was like a father to me," shares Spellman. "He was wonderful to me and really helped me to succeed." When family responsibilities presented new obligations, Spellman took a job that permitted him to train only between the hours of 3am and 5am.
During two decades of an amazing weightlifting career, Spellman won the U.S. Middleweight title in 1946, 1948 and again in 1961. During the intervening years, he won the middleweight gold at the Maccabiah Games and established a new world record at the AAU Squat Championships. What does one of America's greatest weightlifters consider to be the highlight of his career? "Winning the Gold Medal at the Olympic Games in 1949. On that time and on that day, you know that you are the best in the world."
A member of the U.S. Weightlifting Hall of Fame, the Helms Hall of Fame, and the International Jewish Sports Hall of Fame Frank Spellman now lives in Florida. You can spot him in the gym three days a week, lifting weights to stay in shape and serving as an unofficial coach to aspiring athletes of all ages. And the day before and the day after his 81st birthday, he celebrated with-what else?- -a workout.