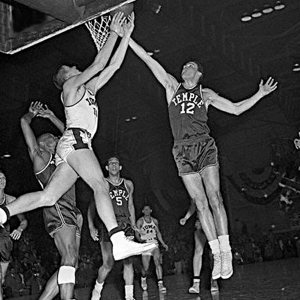 Fred Cohen achieved a stellar basketball career in high school and the upper levels of the college game. It was a singular performance in the 1956 NCAA Tournament for which he'll forever be remembered.
Playing for the Temple Owls against UConn, the 6 foot 6 inch Cohen set an NCAA playoff record for rebounds with 34 that remains intact. It is also the Palestra record.
A dominant scorer at Yeadon High School, Cohen was heavily recruited by many of the country's prime basketball colleges. He chose to attend Duquesne's power house program. As a freshman he was the team's second highest scorer to All American Si Green. Differences with the Dukes' coach led Cohen to Temple for his senior year. Paced by the incomparable backcourt duo of Hal Lear and Guy Rogers, Temple entered the 1956 NCAA tournament with a 23-3 record. They had won their first 13 games, including a stunning upset at Kentucky, coached by the legendary Adolph Rupp.
Temple faced Holy Cross at the Garden in the tourney's opening round. It was to be the first of two sensational performances by Cohen. He was assigned the unenviable task of shadowing Hall of Famer Tommy Heinsohn who later starred and coached with the Boston Celtics. Cohen limited him to only seven of 28 shots, and with the game tied hit the winning shot over Heinsohn at the buzzer.
Round two for the Owls was against Connecticut at The Palestra. "Everywhere I turned I was grabbing a rebound" he said. Temple won again and Cohen, with 20 rebounds in the first half, set his so far unbroken record.
Cohen then attended Temple Law School and edited the Law Review. On graduating with honors, he was awarded a fellowship to Yale Law School.
Cohen then entered the rarified world of major law school teaching and quickly became a noted scholar and is now the nation's leading legal expert on the rights of mentally ill prisoners. He has worked with several presidential commissions and also the American Bar Association in producing standards for juvenile and criminal justice. He is now a leading author and editor, a federal court prison monitor and sought-after speaker.