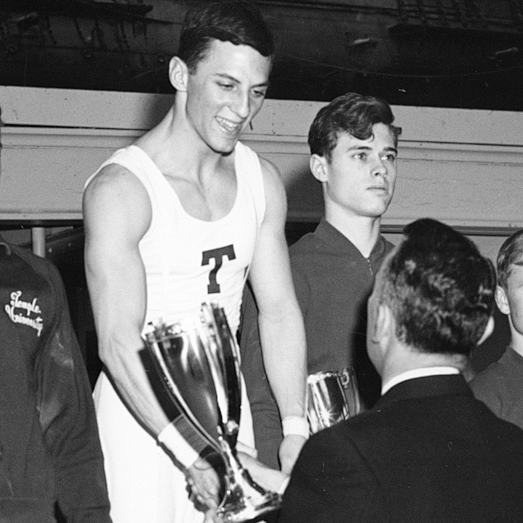 An elite gymnast, Fred Turoff has spent his life facing international competition both as an athlete and as a coach.
An outstanding student athlete at Temple University, Turoff remained at Temple and began his coaching career as the Assistant Men's Gymnastics Coach in 1969. In 1976, he was named the head coach.
Turoff has since coached gymnastics teams at every major level of international competition. He was a member of the coaching staff for the US Men's team in the 1992 Olympic Games and was a member of the coaching staff of the US Men's team in the World Championships in 1979 and 1994.
He has twice mentored the men's team at the World Maccabiah Games in Israel and was the assistant coach in the World University and Pan American Games in 1991.
As a college athlete, he was a member of Temple University's first place team in the 1968 Eastern Intercollegiate Gymnastics League Championships where he was the individual all-around and high bar champion. In the 1969 Maccabiah Games, Turoff won first place in the rings and the vault, and the US Men's Team took the gold medal.
A Philadelphia native, Turoff moved with his family to Connecticut. While at Rippowam High School in Stamford, he was twice the Connecticut State Champion and the Eastern States High School Rings Champion. In his senior year, he also won Connecticut's 103-pound wrestling championship.
He is a member of the USA Gymnastics Hall of Fame Selection Committee and served two years as president of the National Association of Collegiate Gymnastics Coaches (Men).
Turoff was named B'nai B'rith Scholar Athlete of the Delaware Valley in 1969, has been named NCAA Eastern Region Coach of the Year five times and is a member of the Temple University Sports Hall of Fame.