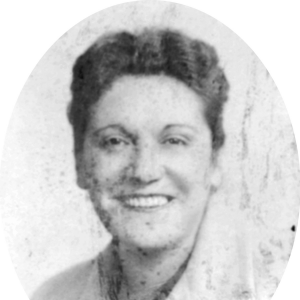 "Like mother, like daughter" is an adage that aptly describes Helen Josephs Goldstein and her daughter Estelle Goldstein, two outstanding athletes, sports pioneers and community leaders. Helen Goldstein had a passion for sports and would not be denied the joy of competition, but in the 1920s there were no leagues for her to compete in-or for any other girls for that matter.
She, much like her idol, Babe Didrikson, matched her wits and skills against the boys. While Helen was at Southern High School, she lettered in and captained seven sports (swimming, tennis, volleyball, basketball, softball, baseball and track and field) but it was still difficult to gain public acceptance. After graduation, she hooked up with the Philadelphia Bobbies, a semi-pro baseball team also known as the Bloomer Girls; the all women's team played exhibition games against minor league teams, mostly in Pennsylvania. The Bobbies traveled the USA 10 years before the women who were depicted in the movie, "A League of Their Own." The South Philly native played second base and often said that she could hear the crowds screaming: "Helen Jo Go!" while she was stealing a base or delivering a hit on a 3-2 fastball.
Goldstein made a partial living playing for the Bobbies who were paid by the hit. A single was worth a dollar, a triple three, and a home run a five-dollar bill. Since Helen led the team in batting average, she made good money. After meeting and marrying Frederick W. Goldstein in the mid 1930s, she continued playing ball in women's basketball leagues. It was men like Jimmy Dessen, Dave Dabrow, Dave Zinkoff, Eddie Gottlieb and Harry Litwack who would become her "big brothers." They encouraged her to play baseball and basketball. This rich environment shaped her life, her love of sports, her desire to give back to her community. Helen had earned the respect of her peers and their lifelong friendship as well. She battered down the barriers at the "boys only " Police Athletic League forcing them to have a female branch.
She became an outstanding basketball player and coach and later passed these skills onto her greatest love, the girls of South Philly. She founded the girls' branch of PAL (Police Athletic League) in 1945. Goldstein remained active with PAL into the mid-1970s. In 1952, she was named the PAL Woman of the Year, a first such honor bestowed by that organization. "My mother was a true champion in sports, at home and in the community," shares her daughter Estelle. "She and my Dad (who met at the Y at Broad and Pine where they were both on the swimming team) inspired my sister Freya and me to be the best that we could be and to always give back to the community. Her legacy enriched our lives and the lives of everyone she touched.
She was a remarkable mother and mentor." "Sports and sportsmanship were the hallmarks of our family," explains Estelle Goldstein. She, like her mother, had exceptional athletic prowess: lettering in seven sports (basketball, softball, volleyball, tennis, bowling, field hockey and badminton) at Southern High; captaining the basketball, softball and tennis teams; and coaching in Philadelphia's playgrounds and community centers. Goldstein's athletic career began at a very early stage. At the age of eight, she played basketball against 12-year-old boys; at 10 she played on the 1947 PAL Championship team that went on to win four straight titles. In 1952, the Warriors presented her with PAL's Best Athlete Award. The National PAL Woman of the Year Award followed in 1956. As a coach, she guided Our Lady of Mt. Carmel 5th and 6th grade teams to CYO championships.
Under her tutelage, the squad won 37 straight games. Stella's Stars, in the City's first 6 feet and under league, was one of the many teams that she coached. "A number of the basketball players, girls and boys, that I coached throughout the years went on to become college coaches, NBA players, and outstanding community leaders," shares Goldstein. In 1965, Estelle made the first of three trips to Israel to participate in the Maccabiah Games. Since basketball was not available, she trained for the shot put, javelin, and discus. She earned a silver medal in the javelin and a bronze in the shot put. At the 1969 games, she added a silver medal in the discus to her collection.
In 1981, when women's basketball was added to the Games, Estelle became a member of the selection committee. Goldstein spent 25 years working for the Philadelphia Department of Recreation where she coached a number of sports, and influenced generations of youngsters and their families."My mother taught us that a champion is someone who does his or her personal best and values being part of a team and the community." Today, Goldstein unofficially coaches in area playgrounds. "I stay connected," she says. "After all, I am my mother's daughter!"