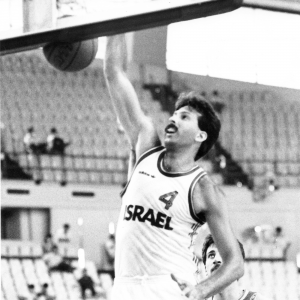 Howard Lassoff has had a love and passion for basketball all of his life. Because of this, the game has given him unique experiences in international travel that have taken him all over the world.
Lassoff first gained notice as the starting center for Lower Merion High School's 1978 Central League First Half Champions and eventually lost the title in his final game. From there, he matriculated at American University in Washington, D.C. where he was a 4-year varsity letterman and a 3-year starting center. His coach for the Eagles was Philadelphia native Jim Lynam who also coached basketball at St. Joseph's University and with the 76ers. In Lassoff's final year, American went to the East Coast Conference finals where they lost to Temple University. He graduated from American University with a B.S. Degree in Criminal Justice.
In 1977, Lassoff was introduced to international basketball when he starred as a Gold Medal winner for the U.S. team in the 10th Maccabiah games coached by Dolph Schayes. It was the beginning of his love affair with the State of Israel.
After graduation from college, Lassoff began a 15 year career in the European League where he was a 6 time Israeli Basketball League Champion with Maccabi Tel Aviv. In 1981 and 1986, he lost in the championship finals to a Tracer Milan team that had Bob McAdoo and Mike DiAntoni as its star players.
As an Israeli resident, Lassoff was the starting center for their National Team from 1982-91. He played over 100 international games against some of the finest European players including Drazen Petrovich, Arvidas Sabonis, Vlady Divac, Rick Smits and Tony Kukac. He served in the Israeli Army (IDF) for 18 months and was in the Israeli Reserves until 1993.
Lassoff, a resident of Wayne, remains close to the game by playing in various basketball leagues around Philadelphia. He has two sons, Alex and Josh, and a grandson Avi.