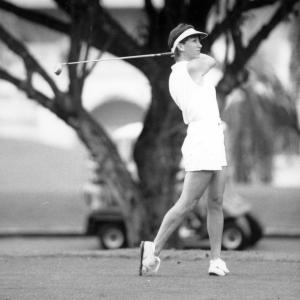 Janice Albert is one of Philadelphia's premier amateur golf champions.
Ever since taking up golf while a student at Temple University, Jan has competed in tournaments and played on golf courses all over the world. The pinnacle of her golfing career took place in 1989 when she won the Gold Medal at the Maccabiah Games in Israel. The grueling competition was spread out over four days of medal play. She won her first tournament, the Club Championship at Radnor Valley, when she was 25 years old.
From the mid-1980's to the mid-1990's, she sported a two handicap. She was named to three U.S. Maccabiah Golf Teams in 1981, 1989 and 1997. In addition to the individual Gold, she won a Team Gold Medal in 1997. She won the Women's Golf Individual Gold Medal at the Pan American Maccabiah Games in Brazil in 1983. Albert was the Philadelphia Senior Women's Champion in 1999 and 2001.
She was runner-up twice, 1987 and 1989, in the Philadelphia Amateur CHAMPIONSHIP Tournament. She was a four-time player in the USGA Women's Amateur CHAMPIONSHIP in 1978, 1983, 1987 and 1989. She played in the USGA Women's Mid-Amateur CHAMPIONSHIP in 1988 and 1994.
She was runner-up twice in the Philadelphia Women's Championship and a semi-finalist twice in the Philadelphia Women's Championship.
She was a participant in the 100-year-old Griscom Cup, a competition between Philadelphia, New York/New Jersey and Massachusetts that pitted the top seven players from each area against each other. Albert was named to represent Philadelphia in 1980, 1984, 1985, 1986, 1987, 1988, 1989, 1990, 1991, 1992, 1993 and 1994.
She's won a host of local tournaments, including teaming up with her husband, Peter, to win the Philadelphia Husband and Wife Championship (low gross record score – 67).