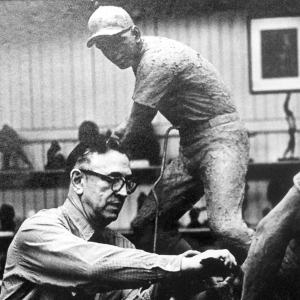 Joe Brown had hands hard enough to knock out a light-heavyweight and soft enough to sculpt a remarkable figure of a beaten boxer. His story is fascinating, the transformation from athlete to artist, from pugilist to Princeton professor, and his work brightens Philadelphia's cultural landscape.
Brown's toughness was tested early, growing up in Grays Ferry. "We were the first Jewish family to move into an Irish neighborhood," Brown once said, "and every male member had to defend himself." He graduated from South Philadelphia High and enrolled at Temple, where he played varsity football for two years and was a standout on the boxing team. His brother Harry boxed professionally and Brown got to see first-hand the damage a fighter endures.
Undaunted, Brown turned pro too, making him ineligible to compete at the college level. Brown had a spotless 9-0 record as a fighter before abandoning the brutal sport. "I won a fight," Brown recalled, "and the next day the newspaper said I 'slaughtered' the guy. I couldn't even eat my soft-boiled eggs while reading the story. I realized, if this is how I feel when I slaughter the guy, how is it going to feel when somebody slaughters me?"
Meanwhile, Brown had found part-time work as a model for a sculpture class at the Pennsylvania Academy of the Fine Arts. When he saw the students' work, he felt he could do better. He took some clay home and fashioned a figure that brought encouraging words from the teacher. R. Tait McKenzie became his mentor, tutoring him for seven years. Brown went on to sculpt famous athletes including sprinter Jesse Owens and boxer Mickey Walker. "Art," Brown once said, "gives you a chance to be free, equal and different." Princeton hired him as a boxing coach and he went on to attain the rank of professor, teaching sculpture for four decades.
His magnificent depiction of gymnasts is displayed outside Temple University's McGonigle Hall. He was commissioned to do four major pieces for Veterans Stadium, which include a runner sliding into second base, attempting to break up a doubleplay. Brown left it to the viewer to decide the outcome of the play, but there is no doubt about Brown's place in Philadelphia's artistic community.