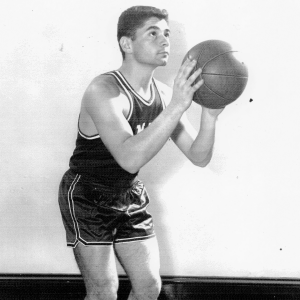 Joe Goldenberg is renowned in Philadelphia for his love of basketball, as a player and as a coach. He played for West Philadelphia High School from 1952-1955, where in 1955 he made the All-Public First Team and earned Honorable Mention All-American. He then played at Temple University from 1956-1959. Goldenberg played for the Jewish Basketball League for 25 years and in the Brith Sholom League for 22 years.
Goldenberg was the coach of his alma mater West Philadelphia from 1969-1990, where his record stood at 410 wins – 84 losses. His team won five consecutive Public League Championships from 1975-1979, four consecutive City Championships from 1976-1979 and was ranked the #1 High School Basketball Team in the Country in 1977. Goldenberg had a 68 game winning streak from 1976-1978. Other head coaching experiences include West Philadelphia's baseball and golf teams, Sayre Junior High School's Varsity Basketball, Softball and Soccer teams, and the first McDonald's All-America Game in 1978. He also conducted basketball clinics for the Philadelphia School District, Philadelphia 76ers, Seamco, Medalist, Nike, Converse, JCCs Kaiserman Branch and Camp Ramah. Goldenberg was also the owner-director of the Wildwood Basketball Clinic.
Goldenberg has won numerous awards, including the 1990 William J. Stecher Award for Outstanding Physical Education Teacher, Philadelphia School District; the 1990 William Markward Memorial Basketball Club Award; Commendations from City Council of Philadelphia in 1975, 1976, 1977, 1978, 1988, 1990; and he earned commendations from the Pennsylvania House of Representatives in 1979 and 1987.