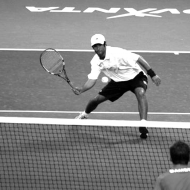 In February of 2012, when Philadelphia Freedoms owner Billie Jean King named Josh Cohen as the new head coach of her team, it was the culmination of a career that incredibly began at the tender age of 2 1/2 when he joined his mother, father and ultimately his sister, in eventually playing high level competitive tennis.
A Philadelphia native, Josh was ranked among the top ten in the world in U.S. Juniors and number one nationally in every USTA age group from 12-18. He won the International Grass Court Championship and competed in all four of the Grand Slams: Wimbledon, Australian Open, US Open and French Open where he reached the quarter finals.
He attended Episcopal Academy in Lower Merion, where at age 13, he was the youngest player in school history to be number one Singles player on the Varsity Tennis Team. Josh went undefeated throughout high school and was the top player in the Inter-Academic League.
In college, Cohen starred at the tennis powerhouse University of Miami where he was an All-American, the team captain and upon graduating, the winningest player in the university's history. Sports Illustrated spotlighted him as a rising star.
After his illustrious college career, Cohen went on to play professionally for two World Team Tennis franchises the Delaware Smash and Philadelphia Freedoms where he competed against some of the sport's greatest icons: Venus Williams, Andy Roddick and Andre Agassi. After two years of being on tour, he accepted an assistant coaching position with the Freedoms. At the same time, he also coached the University of Pennsylvania Men's Varsity Tennis Team, which earned national ranking and produced several players who earned All-Ivy honors.
As for that "family affair" that is Cohen tennis: along with Josh is his father Richard, who is a fellow member of the PJSHOF, his mother Nancy and younger sister Julia, who is a top touring player on the WTA circuit. They have collectively amassed over 40 national singles and doubles championships.