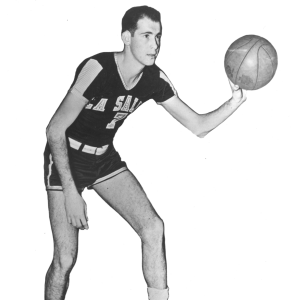 The late Norm Grekin was a member of one of the best basketball teams in LaSalle University history. He was one of the most productive rebounders and scorers ever to play for the school.
After graduating from West Philadelphia High School, where he was All-Public in basketball, Grekin attended LaSalle University. It was during his junior year in 1952 that he teamed up with a sophomore named Tom Gola to lead the Explorers over Seton Hall in the National Invitation Tournament, one of the most prestigious tournaments in the country at the time. He was named with Gola as Co-MVP and to the All-Tournament Team. LaSalle had a 25-3 record that season.
In his three years as a starter at LaSalle, Grekin scored 1,243 points, the third player in the history of the school to pass the 1,000-point mark, and is the 25th highest scorer in LaSalle history. He was an excellent rebounder, pulling down a total of 836 career rebounds (9.5 per game), placing him 6th on the LaSalle all-time rebounding list.
In three years of varsity play, Grekin's teams went 72-17. He played with the team in three NIT Tournaments. After graduating in 1953, Grekin went on to play professional basketball.
He was inducted into the LaSalle University Hall of Athletics in 1967. He died in 1986.