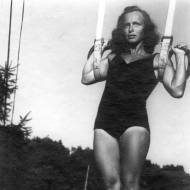 Over a half century ago, South Philadelphia gymnast Pearl Perkins was recognized as the Mary Lou Retton of her time. She has been called perhaps the most talented South Philadelphia athlete of all, and probably the least well known. By the age of 12 she had become a Delaware Valley track and field star and had won five swimming championships.
Later, she found a new passion in gymnastics. Her junior high school team won the city championship and she won a scholarship to train at the prestigious Turngemeinde (Turners) Athletic Club in North Philadelphia.
She attended South Philadelphia High School for Girls and, while there, the girls gymnastics team was the best in the city.
By the time of her graduation in 1932, she had developed a brawny physique that rivaled some of the club's male gymnasts. In 1936, at age 21, she captured the all around Middle Atlantic AAU title.
At the Olympic tryout that same year, she earned one of the eight spots on the U.S. Women's Gymnastics team. However, in 1936 Hitler had risen to power in Germany, the site of the 1936 games.
The indignity of the nazi's anti-Semitism so enraged her parents, Benjamin and Sadie Perkins, that the proud Russian Jewish immigrants were convinced they needed to take a stand, even if it meant sacrificing their daughter's Olympic dreams and denied her permission to attend.
She went on to compete as the only Philadelphia Jewish woman gymnast for her prestigious Philadelphia Turners, winning national championships in the horse and vault in 1941 and 1943 and the national all around AAU championship in 1937, 1941 and 1943.