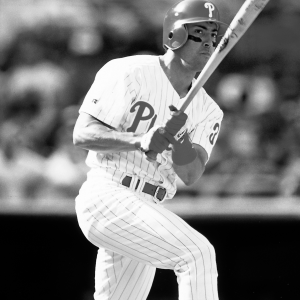 On November 3, 2008, three days after the Phillies World Series victory parade, Ruben Amaro, Jr. was named Senior Vice-President and General Manager of the Philadelphia Phillies. His appointment marked an extraordinary personal trajectory that began in 1980 when at the age of 15, Ruben was the Phillies batboy.
Born and raised in Northeast Philadelphia, Amaro is the son of popular Phillies Gold Glove shortstop Ruben Amaro, Sr. A graduate of the William Penn Charter School, Ruben Amaro, Jr. excelled at baseball and soccer. His proficiency in soccer was so high that he received an offer to play for a team in Germany, but his mother would not permit it because of their Jewish heritage and the history of the Holocaust. He then graduated from Stanford University with a degree in human biology where he starred as the leadoff hitter on the Stanford team that won the 1987 College World Series.
The following year, Amaro was drafted by the Angels as an outfielder and began his major league career four years later. Following his rookie year, he was traded to the hometown Phils where he spent five seasons including the 1993 National League Championship year. He also was a member of the 1995 American League Champion Cleveland Indians.
Following the 1998 season, his last as a player, Ruben moved into the Phillies front office as assistant general manager where he flourished for ten years before succeeding Pat Gillick.
Last July, Amaro was inducted into the All-American Amateur Baseball Association Hall of Fame. He is also a co-founder of the Richie Ashburn Foundation, which provides free baseball camps for 1,100 underprivileged children in the Delaware Valley. In addition, he serves on the board of the Philadelphia chapter of the YMCA.
He and his father are the only father-son combination ever to play for the Phillies.