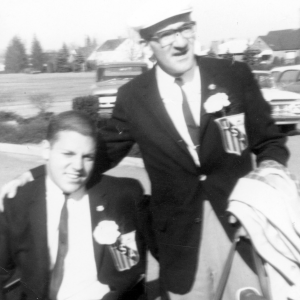 Born in Philadelphia, Samuel Hyman Goldstein became a paraplegic at the age of 14. His disability did nothing to prevent him from participating in athletics and, in fact, served as the motivation to become a top-class athlete in a multitude of sports on a variety of international stages. His pursuit of athletic achievement began in 1963 at the age of 16. He was a member of the National Wheelchair Athletic Association and competed in table tennis, bowling, track (discus, 40 yard dash) and swimming, (freestyle, backstroke, and breaststroke).
Goldstein reached the pinnacle of his competitive success in the mid-1960s when he became the first paraplegic to compete and finish the American Red Cross 50-mile swim. He was a member of the 1964 US Paralympic Team at the Tokyo, Japan Games and was a silver medal winner in table tennis, backstroke and freestyle swimming, and a bronze medal winner in breaststroke. In 1967, Goldstein was a gold medal winner in slalom track, and silver medal winner in the backstroke at the Stoke Mandeville Games.
Goldstein later coached the Easter Seals Philadelphia Paranauts basketball team. Goldstein passed away on January 15, 1977 and was inducted into the Pennsylvania Wheelchair Hall of Fame as its first inductee in 1979.