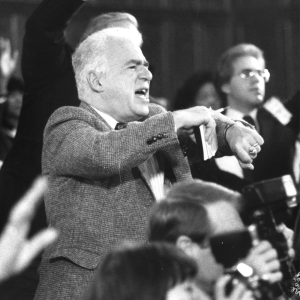 Stan Hochman has been chronicling the Philadelphia sports scene in print, television and radio for six decades.
As a columnist for the Philadelphia Daily News since 1965, the Brooklyn native has provided readers and sports fans with his perceptive insights into all fields of sports and the men and women who play them.
He joined the Philadelphia tabloid on June 9, 1959, and was assigned as the Phillies beat writer for the next six years. He even served as the Daily News' Sports Editor for three years, while still writing his column.
His words of opinion, criticism and praise have earned him numerous distinguished awards, including being named Pennsylvania Sportswriter of the Year on three occasions, the Nat Fleischer Award as Boxing Writer of the Year, the Headliners Award for a series he wrote on Negro League baseball and a four-time recipient of the Red Smith Trophy for coverage of the Kentucky Derby.
Hochman has displayed his versatility as a communicator with stints doing commentary on WCAU radio in the early 1960's, as the weekend sports anchor on WPVI-TV for three years and as a regular weekend sports talk personality on WIP Sportsradio. He even appeared in the motion picture "Rocky V," playing the role of, what else, a sportswriter.
He has authored two books. They include a children's book on Phillies Hall of Fame third baseman Mike Schmidt and a biography of the late Max Patkin, the Clown Prince of Baseball, who is also enshrined in the Philadelphia Jewish Sports Hall of Fame.
His accomplishments during five decades as a journalist and his contributions to Philadelphia sports in general have earned him the respect and admiration of every sports fan in the Philadelphia region.