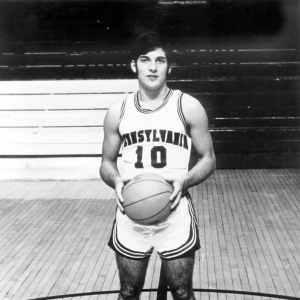 Steve Bilsky has played important athletic roles at the University of Pennsylvania, both on and off the court. As a basketball player, he was a three-time All-Ivy League guard and captain of the school's best team in its history in 1970-71. In his current position as Penn's Athletic Director, Bilsky has expanded activities, competition and facilities for the school's numerous men's and women's teams and its recreation programs.
A native of Roslyn, NY, Bilsky played on the 1970-71 nationally-ranked Quaker basketball team (28-1), considered one of the all-time greatest teams in Penn history. He led the 1969-70 team in free throw percentage, hitting 81 percent of his shots and is still the Penn record holder for free throws made in a game with 17 against Columbia. He guided Penn to a No. 3 ranking after taking his team to the East Regional Finals in the NCAA Tournament and claiming its second straight Ivy League and Big Five championships along the way. In his final two seasons as Penn's point guard, his teams collected a 53-3 record and he was the runner-up for the Naismith Award in 1971.
He has been inducted into the Philadelphia Big Five Hall of Fame and the University of Pennsylvania Athletic Hall of Fame for his basketball talents and achievements.
As Penn's astute and savvy Athletic Director since 1994, one of Bilsky's primary efforts has been to increase alumni involvement in the athletic department. Renovations, ground breakings and facelifts to Penn's athletic facilities could not have been accomplished without his tireless fundraising efforts.
His efforts to increase attendance, participation, revenue and exposure for the world famous Penn Relay Carnival have been overwhelmingly successful. His work on behalf of women's varsity sports at Penn have been significant and effective.
Steve Bilsky's University of Pennsylvania education certainly has been put to good use for his alma mater.