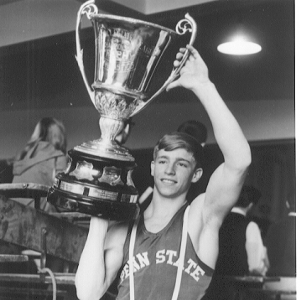 Steve Cohen was an all-star gymnast who joined the ranks of the elite in World Gymnastics in Maccabiah, World and Olympic competition. A native of Wynnefield, in his senior year at West Philadelphia High School he placed first in all around for thirty-two straight individual meets capturing the city championship as he had for the prior two years.
Steve competed for Penn State, where he was a three-time eastern intercollegiate gymnastics all around champion and two-time winner of the NCAA gymnastics all around championship. In his senior year, he was given the Nissen Award as the nation's outstanding senior collegiate gymnast.
He also received the Pennsylvania Hall of Fame Award as the collegiate athlete of the year. He was a member of the United States team in the 1965 Maccabiah games where he won 4 gold, 4 silver and 2 bronze medals. He participated in the World Games in 1966.
In 1968, he reached the pinnacle of achievement for amateur athletes by being named to the U.S. Olympic team, competing in the games at Mexico City. He was inducted into the U.S. Gymnastics Hall of Fame in 1991. Following his gymnastics career, he attended the University of Pennsylvania Medical School, graduating in 1971.
He is presently Professor and Chairman of Dermatology at the Beth Israel Medical Center in New York City.