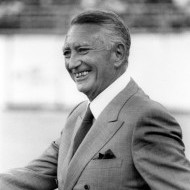 Leonard Tose was a colorful, Runyonesque character who owned the Philadelphia Eagles for sixteen seasons including his team's memorable Super Bowl season of 1980. Perhaps his greatest legacy, however, was his role as the driving force in establishing the Ronald McDonald houses nationwide.
Tose was known for both his hard living and soft heart. Born in 1914, in Bridgeport, Pa., Tose's father, a Russian immigrant, was a peddler who eventually owned 10 trucks, the beginning of the family business. In its heyday, Tose Inc. owned more than 700 trucks and grossed $20 million a year.
Tose attended Notre Dame, played end on their freshman football team and developed a love of football that never waned. It was enhanced by his close friendship with legendary coach Frank Leahy. In 1949, he became one of a hundred local investors who purchased the Eagles. He was then 35.
In 1969, he became the principal owner of the Eagles, selling his trucking company so that he could devote himself entirely to his team. "He loved the Eagles", said Jim Gallagher, their now-retired publicist. "All the players and coaches, even those he had to fire, loved him". The turning point of his regime came in 1976 when he hired an untested college coach from UCLA. Tose was drawn to Dick Vermeil by his intensity and emotionality and it brought the owner his greatest prominence and joy: a glorious trip to the Super Bowl in 1981.
The week before the game, Tose chartered several airplanes and flew 762 people to New Orleans where he treated players, friends and employees to gourmet dinners in the city's finest restaurants.
Tose supported countless charities, and it was because of his efforts that The Eagles Fly for Leukemia and the Ronald McDonald House began. When financial troubles threatened to curtail the city's Public League schools, Tose kept them afloat by writing a single $79,000 check. And he once bought bullet proof vests for the Philadelphia police when the city refused to purchase them. In yet another case of his generosity, he honored his father's devotion to Judaism by raising money to build Tiferet Bet Israel, a synagogue in Blue Bell, Pennsylvania.