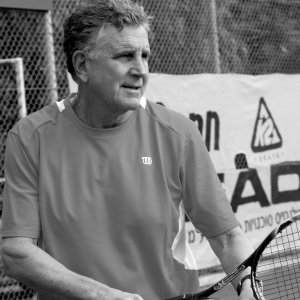 Marty Gilbert, a longtime champion tennis coach in Philadelphia, was one of the major figures to introduce the sport to the State of Israel. He coached tennis at Philadelphia University for a combined 25 seasons (13 men, 12 women) and his women's team won an impressive 70.7 percent of its matches.
He started playing tennis at the age of 4, hitting with his mother on the courts of Strawberry Mansion. His mother, an accomplished player herself, had to hide her tennis sneakers from him when she went to play with others because he would have temper tantrums until she agreed to take him with her. His game progressed so rapidly that he won the Atlantic City Men's Open when he was only twelve.
Gilbert was captain of the 1967 Temple tennis team and was a three-year standout going undefeated both his junior and senior seasons. He compiled a brilliant 33-1 record in match play earning all ECAC honors and was inducted into the Temple University Hall of Fame in 1987.
After graduation, he continued playing tennis with great success, the high point coming in 1983, when he was ranked #1 in New Jersey for Men's 35 and older.
From 1970 to 1980, Gilbert served as the Head Tennis Coach and Assistant Basketball Coach at Haverford College where he accumulated 73 wins.
He first traveled to Israel in the summer of 1977 to be a visiting coach at the Israel Tennis Center in Ramat Hasharon. He and his wife, Rocky, made Aliyah in 1980 and Gilbert spent the next 35 years working in both Philadelphia and Israel. In 1987, he became Head Coach and Director for the Israel Tennis Center Jaffa/Tel Aviv.
In 1997, Gilbert was named Varsity Men's and Women's Tennis Coach at Philadelphia University where he remained until his retirement in 2009. His next step was to return to Israel where his lifetime affiliation with tennis continued. From 2012 to the present, he has been the Head Wheelchair Tennis Coach for the Israel Sports Center for the Disabled as well as the National Quadriplegic Tennis Coach. He is currently training his wheelchair team for the 2016 Paralympics in Rio.