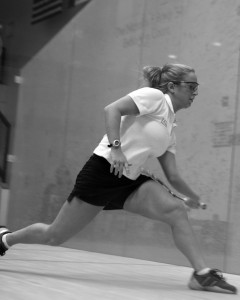 Amy Gross entered the world of competitive sports at the age of 9 and won Junior Squash National and International Championships before the age of 12.
Gross played number one for four years for the Harriton-Lower Merion Varsity Squash Team, the first public school varsity squash program in the country.
Ranked #1 in the U.S. in the Girls under 12, 14, 16, 17 and 19 Divisions, Gross won three U.S. Closed Nationals (U12, U14, U17), and three U.S. Open Nationals (U12, U14, U16). Some of her Junior International Championship titles include: The Dutch Open, Canadian Open, and North American Championship. As a two-time member of the American Junior World Team, Gross represented the U.S. at the Junior World Team Championships in Belgium in 1999 (USA placed 5th in the world) and in Malaysia in 2001 (USA placed 4th in the world). In 1999, Gross helped the U.S. Team win the Gold Medal at the Pan-American games in Mexico City.
As a student at Yale, Gross was a four-time First Team All-Ivy and All-American as well as a leading player on the only Women's Varsity Squash team to win three consecutive National Championships. She was named the Most Improved Player her sophomore year, received the John Blum Contribution award her junior year, and was awarded the Coaches' Special Award and elected Captain in her senior year. One of her favorite memories of her college career was clinching the 5th win for the Yale team, resulting in their third consecutive National Championship title in 2006.
Gross also had the opportunity to represent the United States at the 17th Maccabiah Games in Israel in 2005 where she won the Gold Medal in the Women's Open Squash competition and Team USA won the Silver Medal in the team event.
Her 15+ years coaching experience include three seasons as Varsity Squash Assistant Coach at the University of Pennsylvania while she earned two Master's degrees in Counseling and Mental Health Services, and Professional Counseling and Psychology.
Gross currently lives in Philadelphia and works as a Peak Performance Coach and Therapist, counseling and helping student-athletes in all sports improve areas critical for their success.