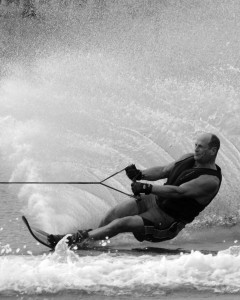 Seven year old Michael Tabas watched as his father learned to water ski, and within a few years he learned the sport as well. Every family vacation included renting a boat for water skiing. When he finally convinced his dad to buy a speedboat, they joined the Flat Rock Ski Club on the Schuylkill River. Every summer weekend was spent with family and friends on the water. The club maintained a slalom course and jump ramp on the river, and soon he entered his first tournament.
Passionate about skiing, Tabas must stay in good physical shape to do so, referring to his regimen as his "Fountain of Youth" with "Ski4Life" as his motto. He trains at the gym regularly, and cross-trains by snow skiing and snowboarding. Tabas' specialty is Overall waterskiing in which he competes in all three traditional events: slalom, tricks and jumping. He has won First Place Overall at the Pennsylvania and Delaware State Championships (1993, 1994 & 1998), and First Place Overall three times at the Eastern Regional Championships (2009, 2012 & 2013). He is nationally ranked, and has qualified for, and competed in five National Championships (2006, 2008, 2009, 2012 & 2013). He recently achieved his lifelong goal of winning an Overall medal at the 2013 USA Water Ski National Championships in Florida. He also serves as a three-event judge for skiers in other divisions.
A participant in many ski shows on the rivers and lakes of the Delaware Valley, Tabas also has entered the annual "Ski Freeze," a New Year's Day waterskiing fundraiser for Camp Rainbow for challenged children.
A Philadelphia native, Tabas graduated from Cheltenham High School, Gratz College for Jewish studies, the University of Pennsylvania and Temple University School of Law.
He is the founder of Lawyers' Video Service, an audio-visual production company with a focus on depositions and documentary evidence for the legal profession. For many years, he has graciously recorded the annual ceremonies for the Philadelphia Jewish Law Day and the Philadelphia Jewish Sports Hall of Fame.
Tabas has instructed and coached many hundreds of water skiers, from beginners to experts, and their successes have been his greatest rewards.