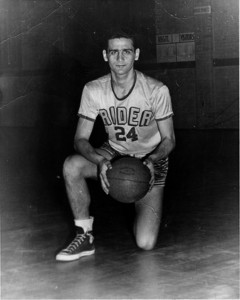 Early on it was apparent that Moe Tener was a talented basketball player.
A "tiger" on the court, and possessing an uncanny eye for the basket, he dribbled, "jump shot" and soared for John Bartram High School to become a first team Philadelphia All-Public Basketball player in 1949. Anyone who played against Tener would describe him as tough, tenacious and a natural, aggressive scorer. A newspaper article reported that "despite the fact that he stands only six feet tall…he was an outstanding rebounder." In addition, the same article went on to say, "Moe Tener is one of those rare individuals who combines scholastic ability with sports talent."
Tener excelled in academics and won full paid scholarships to three colleges. He chose Rider College to continue his studies and to "play ball". After the then required year on the freshman team, Tener was on the varsity from 1950-1953 where he was high scorer his junior and senior years and team captain and MVP his senior year.
Upon graduation, Tener enlisted in the Army. Following his honorable discharge in 1955, he decided on a teaching career. His first position was as a teacher and Assistant Basketball Coach at Gloucester City High School, NJ. He went on to Mt. Laurel Public Schools as a counselor and Head Basketball Coach, to Clayton Public Schools as Department Chairman, to Haddon Township Public Schools as Administrator of the Monroe Township Public Schools, and then to his final professional step as a Professor at Rowan University. He taught in the New Jersey educational system for a total of 49 years.
Along the way Tener authored 40 articles dealing with coaching, basketball and sports administration and furthered his academic studies. He received an M.S. from Temple University, M.S. from University of Pennsylvania and Ed. D from Temple University. During this time, summers were spent at various private camps in the Pocono Mountains in Pennsylvania culminating in 42 years at Camp Log-N-Twig where he became the Camp Director. He extended himself to form a strong bond of trust and caring with each camper. To many people, he was Camp Log-N-Twig.