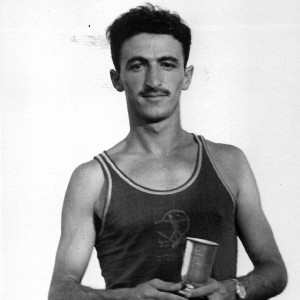 It was 1952 when Arie Gluck walked into Helsinki's Olympic Stadium representing the four year old country of Israel for which he had fought as a teenager. He already held Israeli track and field records in the 400 meters and 800 meters.
Born in Kosice, Czechoslovakia in the 1930's, at the age of three he and his mother joined his father in Palestine. He grew up in Tel Aviv and at 14 joined the Haganah and at 17 joined the elite military unit, the Palmach, preparing for the War of Independence in which he was wounded.
He discovered his passion for track and field in a club, Hapoel, and was national champion of Israel for three years. As a representative of Israel, he competed against Yugoslavia, Greece and Turkey and raced in the Maccabiah games. For every competitive athlete, the dream is to represent your country in the Olympics. An American coach, Irv Mondschein (PJSHOF Class of 1998), was brought to Israel to train the seven Israeli track athletes. An American scout saw Gluck compete in the Olympics and invited him to the United States in 1954 with a full scholarship to run track at Adelphia University. There, he earned a Bachelor's degree in Physical Education which was followed with a Master's degree in Camping and Recreation from New York University. Gluck also graduated from the Wingate University for Physical Education in Israel.
Gluck worked as a Jewish communal worker, educator and Camp Director in the United States for over 50 years. For 37 of those years, he was the Director of Camp Harlam in the Poconos.
Because of his extraordinary leadership skills, his humanitarian efforts on behalf of children and youth were recognized by the Israeli Air Force Friendship Award for bringing Israeli Gulf War orphans to camp for several summers, the V'Shinantam L'Vanecha award for outstanding service to Jewish youth and the Summer Shlichim Program Award from the Jewish Agency. The Hebrew Union College Jewish Institute of Religion conferred the Doctor of Human Letters on him.
Gluck retired in 2002 and passed away in June of 2016.