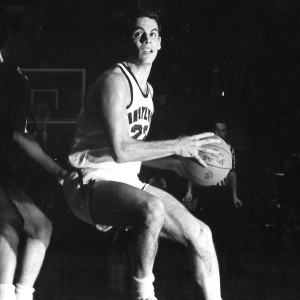 Jeff Neuman is considered one of the greatest basketball players in the history of the University of Pennsylvania: he was named first team All-Ivy League three consecutive years and All Big Five status in 1965 and 1966. In the latter year, as the Quaker's captain and MVP, he averaged 20.4 points a game in Ivy League competition and led his team to a 12-2 record and their first ever Ivy League Championship. His 28 points against Columbia clinched the Ivy Title.
Raised in Altoona, PA, Neuman came from a family of professional athletes: his father played AAA baseball with the St. Louis Cardinals and his uncle, professional football with the Cleveland Rams who later moved to Los Angeles.  Representing the next generation, Neuman completed this family hat trick by excelling in basketball.  In high school, he was named first team Pennsylvania All-State.
When Neuman met Penn's basketball coach, Jack McCoskey, he decided to become an Ivy Leaguer.  Combined on-court with Stan Pawlak, who had a storied career at Penn, the two formed a dangerous duo.  Pawlak said his teammate was a point guard before the position even had an official name.  "His game in the sixties was what NBA and college coaches look for in their lead guard today. He played with flair, had exceptional quickness and his superb foul shooting ranked with the best in the nation."
One year against St. Joe's, with time winding down, Neuman wrestled the ball away from a Hawk's player at mid court, dribbled behind his back past two defenders, then hit his teammate with a bullet pass underneath the basket.  He received a standing ovation from the 9,220 fanatics at the Palestra.
After graduating, Neuman continued his Penn education by attending the Wharton School of Business. In 1966, he was selected in the sixth round of the NBA draft by the Baltimore Bullets, but he never played in the NBA. Instead, that summer he toured with the United States National team and traveled throughout Europe playing the national teams from Spain, Russia, Czechoslovakia, Italy, France and many others.
In 1984, Neuman was elected to the Philadelphia Big 5 Hall of Fame and in November 2000, he was inducted into the University of Pennsylvania Athletic Hall of Fame.