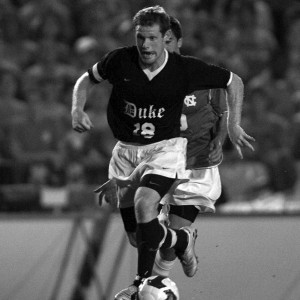 Joshua Bienenfeld was a 4-year Varsity Letter Winner on a Duke University Men's Soccer team that was consistently ranked in the Top 25 in the country from 2006 to 2009.
As a freshman at Duke, Bienenfeld was named to the All-ACC Freshman team and was honored as Duke's Rookie of the Year.  He was a member of the #1 ranked team in the nation and won both the ACC regular season and tournament championships.  Later that year, he helped Duke's run to the Elite 8.  Throughout his four years, Bienenfeld helped lead the Blue Devils on all fronts: earning starting positions as a defender, midfielder, and forward.  In his senior year, he was named captain and helped take Duke Men's Soccer to the Sweet 16.  Bienenfeld was twice selected as a ESPN the Magazine/COSIDA 1st Team Academic All-American and was the First Dukie in the history of the soccer program to earn this award.
A native of Huntingdon Valley, PA Bienenfeld was student-athlete of the year at Lower Moreland High where he scored 88 career goals leading Lower Bucks County for 3 straight seasons (2002-2005).  He was a 4-time State Champion and Region I Champion with his youth club, FC Delco.  As a starter, he helped lead the ODP state team of Pennsylvania to a National Championship in 2005.  He was a member of the U.S. Men's Open Maccabiah Team in Israel in 2009, and of the Philadelphia JCC Maccabi Gold Medal Winning team. Named the #9 Recruit in the country from SchoolSports.com (Recruit Zone) in 2005, he was named an ADIDAS Youth-All American that year, was invited to Adidas ESP Camp (an invite-only program for the Top 150 High School Players in America), garnered a spot on the All-Star team at ESP camp, and was named one of the Top 10 players in the Nation from ESP camp from ESPN.com.