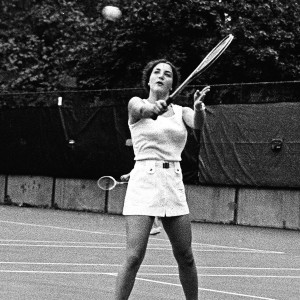 June Greenfield Eisner first remembers hitting tennis balls with her Dad at age 3, a large racket tucked under her arm.  With every pointed stone memorized on her home's back wall, she was able to maintain extended rallies which sometimes resulted in a broken window.
As a junior Middle States and Philadelphia Regional competitor, Eisner achieved the number one ranking in singles and doubles several times.  She was the Middle States Grass Courts Champion, Singles and Doubles, Pennsylvania State Singles and Doubles Champ, Philadelphia Girls Champion, as well as the Wilmington City Open Champ, Singles and Doubles.  As a summer camper, she won the Fryeburg Maine Regional Camp Tennis Tournaments in singles and doubles, with an undefeated four year record and was also a winner in the Portland Maine Regional area.
Eisner was the number one player for Lower Merion High School all three years and was undefeated while being named a Top Ten Scholar Athlete.
At the University of Pennsylvania, Eisner was the top player and captain in her Junior and Senior years, amassing a record of 16-4 as well as being an NCAA regional finalist. Her biggest win was at Ohio State University where she defeated the number one ranked NCAA player in singles and doubles. While a sophomore at Penn, she was awarded the prestigious honor of Outstanding Undergraduate Scholar Athlete by the Friars Club.  In 1997, Eisner was inducted into the Inaugural Class of the U of P Tennis Hall of Fame.
After college, Eisner played professional tennis on the Virginia Slims Tour and Avon Futures and represented the Middle States in Sears Cup competition while playing number one for the Suburban Tennis Club of Narberth.  She was a Mixed Doubles Middle States Finalist as well as a National Team Member on the winning USTA Michelob Light 5.5 Championship, 1983.
She was a teaching professional and coach in the Philadelphia region for 30+ years including head tennis pro at Green Valley Country Club from 1980-1984.
From 2004-2012, Eisner was the Ladies Golf Champion at the Woodcrest Country Club in Cherry Hill, NJ and winner of several WGAP tournaments in the Philadelphia region.