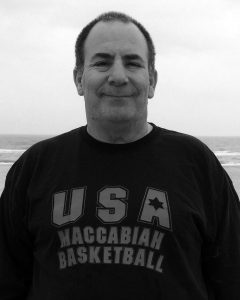 For over a quarter of a century, Brian 'Shifty' Schiff has played a large role in Maccabi basketball. His duties, first as an assistant, then as head coach, have taken him to games in Mexico City; Santiago, Chile; Buenos Aires, Argentina; Berlin, Germany; four times in Israel and to more than twenty cities across the United States and Canada.
His Maccabi coaching record, between his Philadelphia and USA teams, stands at an astounding 174-28, a winning percentage of .861: 15 golds, 6 silvers, and one bronze for a total of 22 medals combined!
Schiff began coaching basketball almost by accident. In 1992, after walking into the JCC Klein Branch in Northeast Philadelphia to write a story about tryouts for the Philadelphia JCC Maccabi team, Schiff told the coach, Norm Millan, 'this looks like fun' and was asked to help. He became an assistant coach that year and served in that role until becoming head coach in 1998. The games in Detroit that summer were the largest JCC Maccabi ever (3,200 athletes, 36 basketball teams) and Philly emerged as the gold medal champions.
Following the 1992 Maccabi, Schiff was hired by legendary high school coach Steve Chadwin (also an Inductee in the Philadelphia Jewish Sports Hall of Fame, Class of 2014) at the Abington Friends School, where for the next 6 years he served as an assistant coach on the varsity and for 2 years as middle school head coach.
A member of the Philadelphia area sports media for the past 27 years, Schiff has worked at Comcast SportsNet Philadelphia (now NBC Sports Philadelphia) and was Public Relations Director of the Philadelphia Kixx (professional indoor soccer) and the Atlantic City Seagulls of the United States Basketball League.
A freelancer who has written for publications around the country, Schiff is the former news editor of the Jewish Times and a sports columnist for Philadelphia Weekly and Northeast Times. One of the original on-line writers, for 3 years Schiff covered the Flyers and NHL for Digital City Philadelphia, a division of America Online. He's also served as an adjunct professor at Arcadia University.