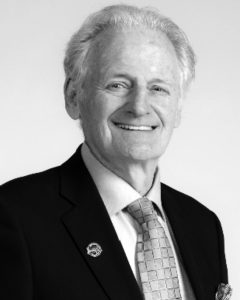 Born and raised in Philadelphia, Lou Scheinfeld is a nationally known sports and entertainment executive with a successful background in managing and marketing public facilities and sports franchises. He is currently CEO and president of the newly created The Museum of Sports.
He grew up in a candy store in Brewery Town and attended Central High School and Temple University School of Journalism where he was the Editor of the Temple News. After leaving Temple in 1957 to support his family, Lou became City Hall reporter and later City Editor at the Philadelphia Daily News. In 1966 Lou took a chance and joined Ed Snider in establishing a new sports arena in South Philadelphia that eventually became The Spectrum, home of the 76ers and Flyers. Scheinfeld spent nearly 15 years as an executive of the Spectrum, the Philadelphia Flyers and the Philadelphia-area cable network, Prism, before joining the 76ers as chief executive officer in January 1980.
Scheinfeld was responsible for conceiving the names for the Spectrum, Prism, Spectacor, Kixx soccer team and was instrumental in naming the Flyers. In a memorable moment of inspiration, he initiated the pre-game Kate Smith-Flyers "God Bless America" legend that resonated with sports fans all over the country. Ed Snider once said "Lou is the most creative person I've ever known." For over 50 years he was a close friend and advisor to the late Comcast Chairman.
As the founding Vice-President of the Flyers hockey franchise and President of the Spectrum, Scheinfeld is credited with fathering innovative sports marketing concepts and establishing the Flyers and Spectrum as North American brands. He recently oversaw the closing and assets sale of the Spectrum plus the implementation of new corporate projects, including Xfinity Live!
Now at the age of 82, Scheinfeld is knee-deep into his latest endeavor: spearheading the Museum of Sports, a 'Philly flavored' national destination which is to be located in the heart of the South Philadelphia sports complex. "I've been doing it pro bono for 7 years", Scheinfeld said, "It's both a natural fit for Philadelphia and a labor of love".