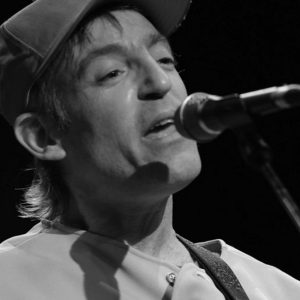 Chuck Brodsky is a storyteller, a songwriter, a troubadour and a modern day baseball bard. Over the past 25 years, he has performed at festivals and concerts all over the world including the Baseball Hall of Fame where 22 of his songs have been enshrined.
Born & raised in suburban Philadelphia, he attended The Haverford School and now lives in the mountains of North Carolina… but his blood still runs Phillies red. His song Whitey & Harry was featured in the documentary film Richie Ashburn: A Baseball Life, and the Sony Pictures feature film release Radio included an appearance by him as well as his original music as the closing title track song. Another of his compositions Moe Berg: The Song was featured in the PBS show, Jews and Baseball: An American Love Story.
Brodsky, who has garnered worldwide acclaim for his folk singing and song writing, began his career by dropping out of college to sing for tips on the streets of Europe. Then he performed in coffeehouses in the San Francisco Bay area.
Among his twelve CD's are two entire albums of baseball songs: The Baseball Ballads and Baseball Ballads 2. The Ballad of Eddie Klepp, about the first white man to play in the Negro Leagues, has been heard on NPR's Morning Edition and was the inspiration for a feature story about Klepp that appeared in The Washington Post. The Philadelphia Daily News ran a story about Brodsky and his original composition about Richie Allen, Letters in the Dirt.
Another favorite topic Brodsky likes to explore is his Jewish heritage. His musically inclined great-great grandfather inspired Old Song Handed Down in which his grandson, Brodsky, asks him about life as a musician in a Russian peasant village in the late 1800's. The song Lilly's Braids was written after a visit to Yad Vashem in Jerusalem. Another of his compositions, Gerta, is a song about a doll donated by a Holocaust survivor who instructed it to "tell the world what we saw". Brodsky has recorded six songs about the Holocaust and plans to release an entire album of songs with Holocaust themes.