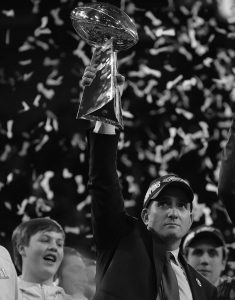 Few people in the competitive world of professional sports have had a year like the one Howie Roseman enjoyed in 2017. The Eagles Executive Vice President of Football Operations, now in his 19th season with the team, was named Executive of the Year by the Pro Football Writers of America for his role in constructing the franchise's Super Bowl LII winning roster. In addition, Roseman was voted The Sporting News NFL Executive of the Year by fellow league executives.
During the 2017 offseason, Roseman and the Eagles front office utilized free agency, executed trades and infused the roster with talent and youth during the NFL Draft, which was held in Philadelphia for the first time since 1961. Roseman's moves paid huge dividends when the Eagles captured the first Super Bowl title in franchise history with a 41-33 victory over the New England Patriots.
Prior to being promoted to his current role, Roseman served as the team's general manager from 2010-14. At the time of his 2010 promotion to general manager, he became the youngest NFL executive to be named to the post in three decades, at just 34 years old. Since hiring Roseman in 2000, the Eagles have earned 11 playoff berths, eight division titles, six NFC Championship appearances, two NFC Championship crowns and trips to Super Bowl XXXIX and Super Bowl LII.
Roseman is also active in the Philadelphia-area community, contributing to a variety of initiatives involving military and children. He was named Honorary Commander for the Joint Base McGuire-Dix-Lakehurst for his continued efforts with the military. His charitable endeavors have benefited the Alex's Lemonade Stand Foundation, the Boys & Girls Clubs of America, USA Football, Pop Warner and Cop Wheels. He is also a member of the Governing Body of the Global Sports Management Summit and YPO. In 2018, Roseman was the recipient of the Steinberg-DeNicola Humanitarian Award, an honor presented by the Maxwell Football Club to an NFL representative that has committed themselves to doing good in their community.
Born in Brooklyn, NY, Roseman earned his bachelor's degree from the University of Florida before earning a JD degree from Fordham Law School.