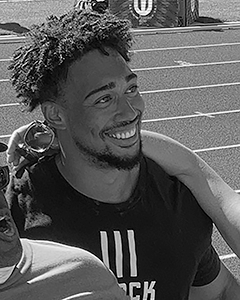 After tripping over a hurdle in eighth grade, Sam Mattis was told he would be a thrower.
From that day forward, he became a track and field athlete competing in the discus throw. Setting the New Jersey state record from 2010-2012, he won the NJ Meet of Champions and the New Balance Nationals in 2011 and 2012. Born in New York, Mattis grew up in East Brunswick, NJ.
Throwing discus at the University of Pennsylvania, he won the Ivy League Championship four years in a row, NCAA Nationals in 2015, set the American Collegiate record in the event and was named as the NCAA Scholar Athlete of the Year. To win the 2016 Philadelphia College Classic, he threw 67.45m, the American Collegiate record. Penn's track and field program had produced 19 Olympic gold medalists, when Mattis was its most heralded recruit in two decades.
Upon graduation from Wharton with a degree in finance and Operations Management, he was offered a position with a prestigious Wall Street firm. Instead of accepting, he turned his sights to training for the 2020 Olympics. His gold medal winning throw of 218-9 at the 2019 USA Track and Field Championships, surpassed the qualifying standard, and he made the World Team. At the World Championships in Doha in 2019, he placed 11th and was the only American to qualify for the final day of competition in the discus.
Going into 2020, Mattis was in the best shape of his life and was pumped for the season. He had been training for the Olympics for over a decade. Then came the coronavirus pandemic, and the Olympics were delayed until 2021. With continued training and persistence, Mattis successfully placed among the top three finishers at the US Olympic Trials in June 2021, represented the United States Olympic Team in Track & Field at the Summer Olympics in Tokyo and reached the final of the men's discus event.
Mattis currently lives in Fleetwood, PA