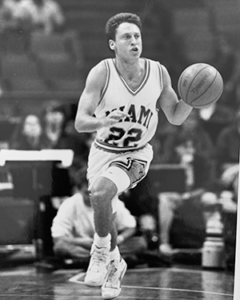 Jimmy Kieserman was born into a basketball family in Huntingdon Valley, Pennsylvania. Temple University coach and Naismith Basketball Hall of Fame inductee Harry Litwack was his grandfather and inspiration. He became an Abington High School basketball standout, a University of Miami basketball letter winner and was selected a total of five times to participate for the U.S.A. in the Maccabi Games in Israel in two different sports.
Kieserman excelled athletically at Abington High School, becoming captain of the varsity basketball team. His play earned him a full scholarship to play for the Hurricanes. He was also Abington High's top golfer and boys' tennis player.
Kieserman played professional basketball in the Eastern Basketball League for the Lancaster Storm in 1997-98, serving as team captain. He was considered by many to be the best player in the Jewish Basketball League (JBL) in the 1990's, averaging 30-plus points per game. He was a multiple MVP winner and in 1999, when his team won the JBL championship, he earned the first Harry Litwack Basketball Award.
In 1996, Kieserman volunteered to be a trainer at Lower Merion High School with the specific role of helping a rising young player named Kobe Bryant. Mike Sielski of the Philadelphia Inquirer and WIP radio, in his recent book about Kobe's rise, said that Kieserman "had a killer crossover dribble and had developed an athletic, aggressive game." He was an ideal choice to help develop Kobe's game. Lower Merion High School won the Pennsylvania State Championship that year.
Kieserman is a four-time World Maccabi Games basketball participant, playing Open ball in 1993 and 1997 and Master's (45–plus) in 2017. In 2017 he received the leading scorer/dominant player trophy and in 2022 won the bronze medal. The U.S.A. won a silver medal in 1993 and he was team captain in 1997 when his country won bronze and he was asked to carry the United States flag upon arriving at Ben Gurion Airport. In 2001, Kieserman qualified for the United States' Maccabi Open golf team but elected not to participate. He has coached both boys and girls to gold medals in the Mid-Atlantic Junior Maccabi Games and currently trains numerous young area players.
On the links, Kieserman has competed at the local, regional and national levels and qualified for the United States Golf Association Mid-Amateur Championship tournament four times (1998, 2001, 2003, and 2008).
Kieserman now resides in Dresher, PA with his wife, Amy. They have two daughters, Hannah, and Jordyn.