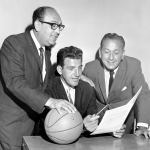 Class of 2007
[Left: Ike Richman, Right: Irv Kosloff]
Irv Kosloff was born in Philadelphia in 1912 to Russian immigrants. He graduated from South Philadelphia High School for boys where he won All-Scholastic honors in football and was captain of the team. He enrolled in Temple University, but in the difficult economic times during the depression he left college to find a job. In 1932, he founded Roosevelt Paper Company which grew to be one of the largest independent paper merchants in the U.S.
Ike Richman was also the son of immigrants and spoke Yiddish as his first language. His father was an Orthodox cantor. Richman attended South Philadelphia High School for Boys where he met Kosloff and they became lifelong friends. Their interest in sports was sparked by mutual friend Eddie Gottlieb. Richman attended Temple University and graduated from its law school. He became Managing Partner of the law firm of Richard, Price and Jamieson which later became Steinberg, Greenstein, Richman and Price, a well known law firm in Philadelphia in the 1960s.
From 1948 to 1962, Richman was General Counsel for the Philadelphia Warriors NBA basketball team. The year after the Warriors were sold and moved to San Francisco, Richman and Kosloff purchased the Syracuse Nationals, moved the team to Philadelphia and named them the Philadelphia 76ers.
Ike Richman was Wilt Chamberlain's personal attorney and he was the attorney for several members of the team. Richman died suddenly on December 3, 1965 at a basketball game at the Boston Garden. At the time of his death, Wilt Chamberlain stated to the press that Ike Richman was like a father to him.
Both Kosloff and Richman were active figures in the community. A religious man, Richman was supportive in the founding of the State of Israel and worked with Israel Bonds throughout his lifetime. In 1965, he was honored at an Israel Bonds dinner. Ike and wife Clare were founding members of Temple Sholom where Ike was a three-time president. In memory of Ike, ORT named a sports field after him in Netanya, Israel.
Kosloff was honored by many institutions during his lifetime including the Boy Scouts of America, Police Athletic League, Temple University, Veterans of Foreign Wars, the Pop Warner football program and Woodrock, an organization dedicated to helping young people in neighborhoods surrounding his Roosevelt Paper Company plants. He was an Eagle Scout and served as Scout Master counselor at a sports camp for underprivileged youth. He also coached children's basketball at Har Zion.
Following Ike Richman's sudden death, Kosloff continued his ownership of the 76ers until 1978.